sqwul'qwul's tthu sul-hween tst
The Tellings of our Elders
Our Elders share their stories, personal histories, and traditional teachings in the Hul'q'umi'num' language. The Hul'q'umi'num' territory extends over 100 kilometers along the shores of the Salish Sea in British Columbia, Canada. The Elders have expressed great concern for the future generations and hope that these tellings will help keep the language alive. They have laid down their stories to help those who want to learn the language, and we thank them for sharing their wisdom.
Ruby Peter's Stories

Kwa'mutsun Elder Ruby Peter – Sti'tuma't – shares four stories learned from her parents.
Bill Seward: Stories and Teachings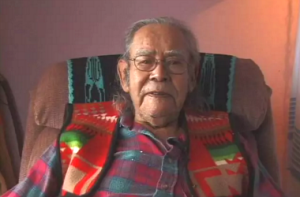 Snuneymuxw Elder Bill Seward – Ts'uqw'nustun – shares stories about his life and territory as well as snuw'uyulh, traditional cultural teachings.
Willie Seymour Speaks

Well-respected Stz'uminus storyteller and public speaker Willie Seymour – Sxweltun – shares his 'Beaver Story' and some teachings.
Lussy Aleck Speaks

Elizabeth (Lussy) Aleck of Stz'uminus First Nation tells stories and histories, and speaks on the power of prayer.